A voter ID or National Identity Card is essential for us. To get any service like showing proof of citizenship, opening a bank account, applying for a job, applying for a passport, or getting any government service, we definitely need National ID Card.
Advertisement
The new NID application and NID registration is the same. You can apply to be a new voter only when you are 16 years old.
Once your application is approved you will get a new National Identity Card. But you must be 18 years old to become a voter.
Advertisement
Here I will describe all the processes and give related information on how you can apply for new NID registration. This post will cover what documents are required and how to fill out the NID Application Form online in detail.
Eligibility to apply for new NID Application
One must be a citizen of Bangladesh to get a NID card;
Age should be above 16 years;
Not previously registered for a National Identity Card.
What does it take to be a new voter?
Required Documents for NID Application
The following documents are required to apply for new NID Registration. By the way, you don't need to upload these documents while applying online but have to submit them to the Upazila Election Office.
Advertisement
Necessary Documents for NID Application:
Academic certificates, S.S.C., or equivalent certificate
Digital Birth Registration Certificate
Passport / Driving License (if no educational certificate)
Photocopy of ID Card of Father, Mother, Spouse (Mandatory)
Copy of utility bill/house rent receipt/holding tax receipt (as proof of address)
Citizenship certificate
Ongikarnama (if applicable)
How to Apply for NID Registration
You can apply for a new NID card in 2 ways, 1) Apply online and 2) Submit a Voter Registration form in the Election office.
To apply for new NID Registration online, follow the steps below:
Visit NID Application System;
Register an account with your Name and date of Birth;
Set username and password;
Fill in your personal information and address;
Submit the print copy of the Application along with documents to the election office.
After verification of your application, you will be called to take a photograph and fingerprints and given a voter registration form slip. If your application is approved within 10-15 days of providing biometrics, you can download your new voter ID card online.
Advertisement
Let's know the detailed process of voter application. All necessary information links will be provided.
Visit services.nidw.gov.bd to register a new voter online and apply to become a new voter.
Before filling in the NID Application Form, read the detailed process 1 time carefully. Then apply by following the steps. Then you can apply it accurately.
Step 1- Account Registration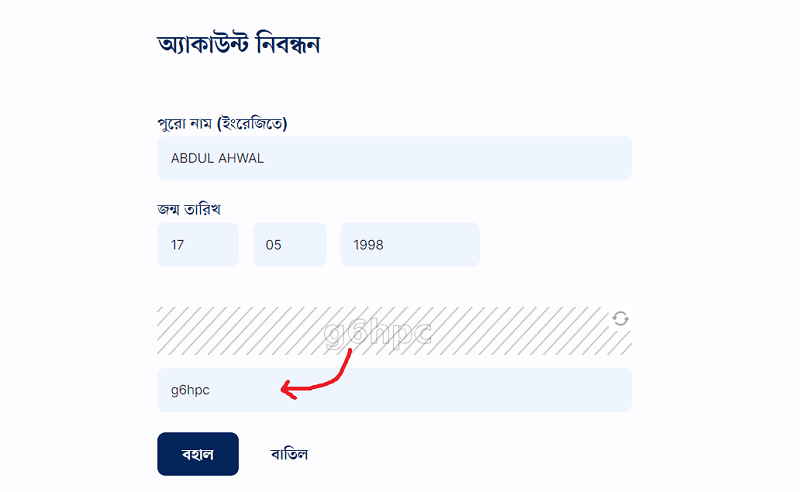 First, you have to register an account for you. Follow the bellow steps:
Visit this link NID Application System;
Put your full name, date of birth;
Fill in the captcha code and click "Submit";
Verify your mobile number;
Set a username and password.
You are done. If it shows "username already exists", Try to use a different Username. Remember, your username should not match anyone else's. So think carefully and write it to be unique.
Step 2: Fill the NID Application Form
After you have successfully completed registration, you will get a dashboard like the below image. If you are not logged in automatically, you can log in with your username and password.
Now you have to fill in all your personal information and address. Let's see how to do that. Follow the simple steps below:
Go to "Profile", then click the Edit button;
Write your parent's names and other information correctly;
Add educational and other information about you;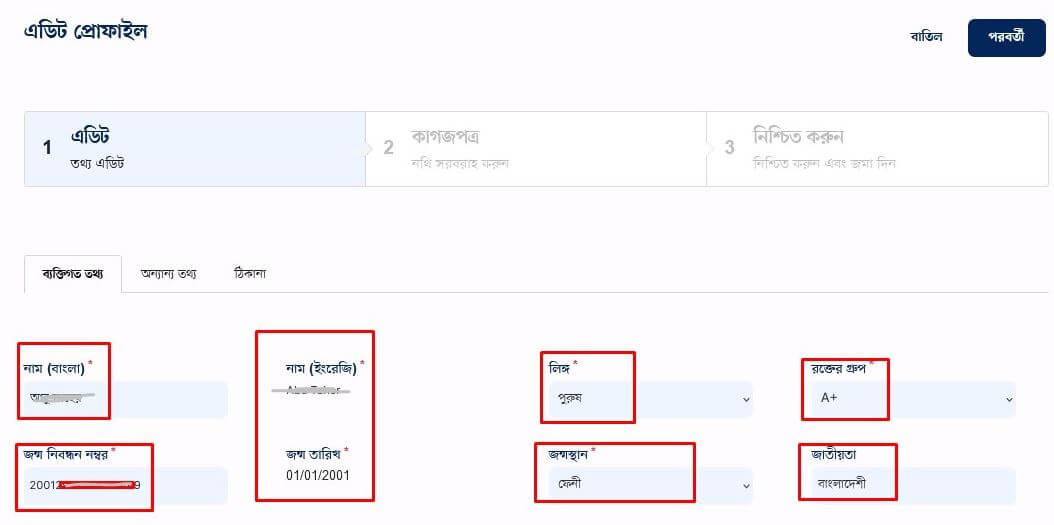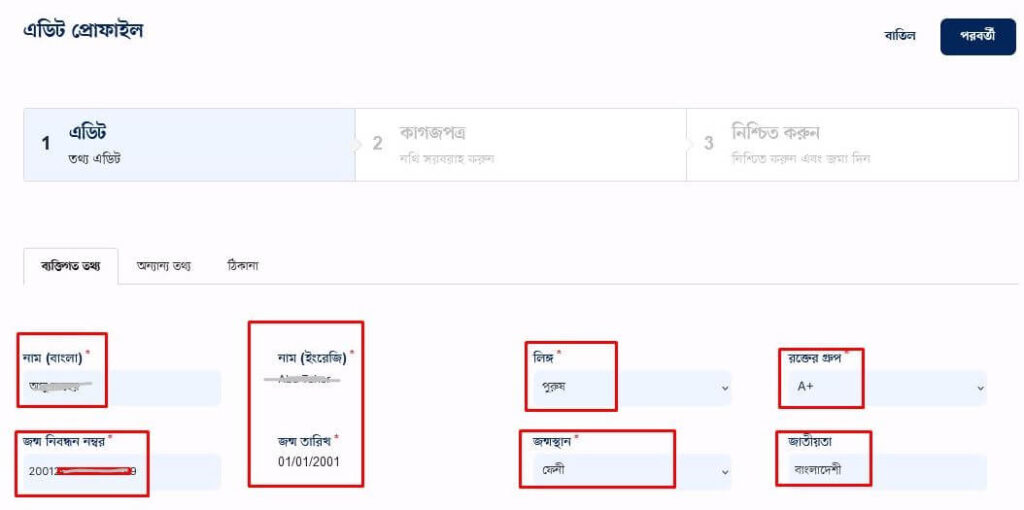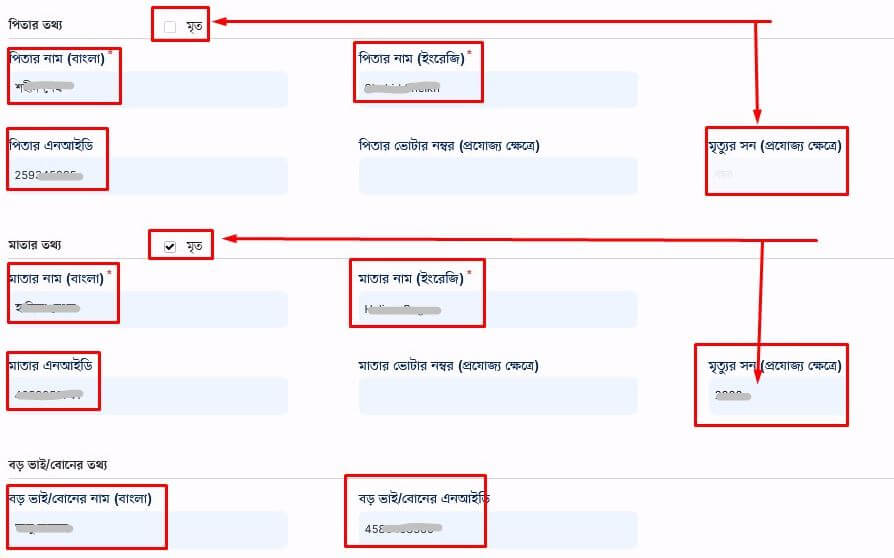 Select if you are applying from Bangladesh or outside Bangladesh, also select your address and voter area;
Check all the information again and submit the application;
Download the application form PDF file.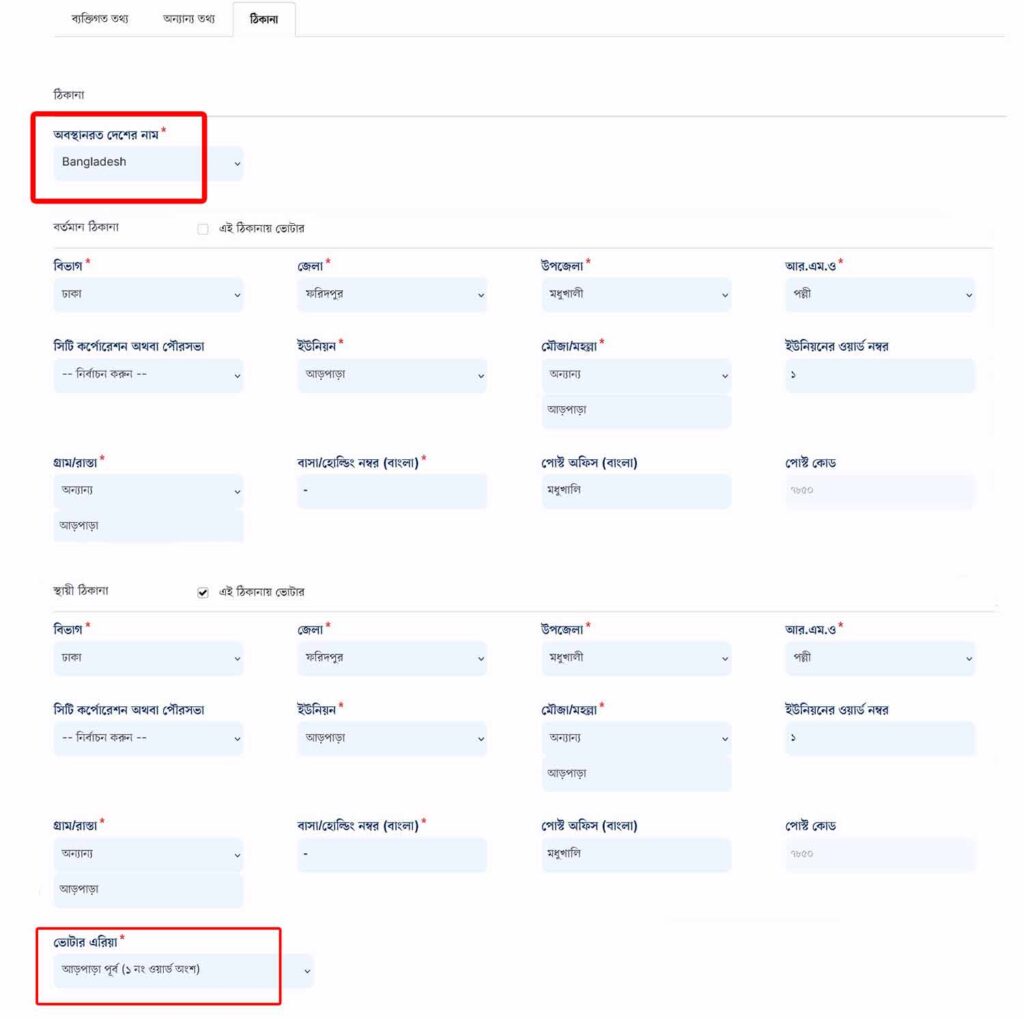 Step 3: Submit NID Application Form
At this step, you are to submit your printed online application form with all required documents. You also need to fill out a physical NID Application form by hand at the Upazila Election office. The election office will verify all your information. After the verification process, you will be called to provide biometric information such as a photograph, fingerprint, and eyeris scan.
Step 4: Provide Biometric Information
After the verification process, you will be called to provide biometric information such as a photograph, fingerprint, and eyeris scan.
After you have provided biometric information, collect the bottom part of the NID Application Form which is called "Voter Registration Slip"
Important Information for New NID Application
The Voter Registration Form or NID Application Form contains some important matters, that is, identifier and verifier information.
You have to enter the name and NID number of any person in your neighborhood as the identifier in Row no. 34 of the form. Besides, the name, signature, and NID number of your local representative, chairman, member, or councilor will be required as a verifier in Row no. 40.
Advertisement